These are rare times that we're living in but we're making the best of it. As a social media agency, planning is in our DNA, but sometimes life gets in the way of that – and that's ok. Like our good friend Ross Geller once said, now is a great time to pivot.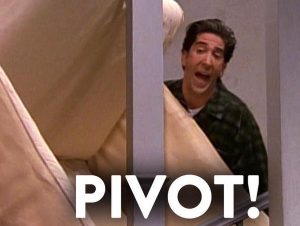 We put together some ideas for influencer content while being quarantined, based on the lifestyle changes affecting all audiences.
Beauty:
General self care tips
At home makeup/no-makeup-makeup look
At home manicure
Re-organizing makeup drawer
At home hairstyles
Morning/nighttime routine
Home:
DIY decoration projects
Home office design & tips
Organization hacks
Creating an environment for kids to learn
Candles to boost productivity and relaxation
Fitness:
At-home workouts
HIIT challenge
No equipment workout
Meal planning tips
Music to listen to while working out
Motivational tips/quotes
Lifestyle:
Social distancing tips for families
How to keep spirits high during quarantine
At-home activities for family
Games to entertain family at home
Managing stress during lockdown
Childcare tips during quarantine
Educational videos for children
Travel:
Travel bucket list
Travel documentaries/virtual tours
How to support your local community
How to help other communities from a far
Food:
Baking tips & new recipes
Quick and easy recipes
Meal prepping for families
At home date night recipes
Cooking with less ingredients
New recipes
Healthy alternatives
Fashion:
Wardrobe spring cleaning
Work from home outfits
How to dress for a video call
We hope this helps keep your creative juices flowing. We'll get through this together!
Let us know how your audience is responding to your COVID-19 content changes! Email us or comment below!